SHARK CARTILAGE SKIN CREAM

Cream made with the finest shark cartilage extracts and manufactured under the highest quality standards.

Natural regenerative cream that renews and protects your skin. It's anti-oxidant action prevents the negative effects produced by external factors. Helps eliminate wrinkles, minor scars, and it moisturizes your skin. It gives your skin a fresh, silky, and soft feel.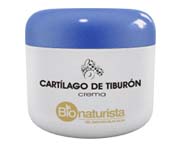 REGULAR PRICE: US$26
YOUR PRICE: US$21.95
2oz Jar

You can pay via:








All Payments are secured by PAYPAL


Product Locator
Find any of our products by
clicking on one of the links below.